Double Stage Water Ring Vacuum Pump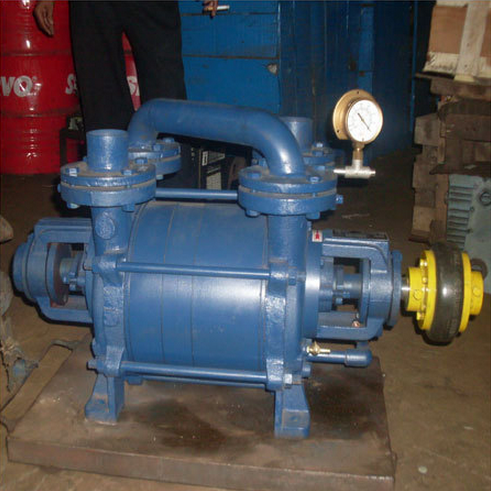 Product Specification
Double Stage Water Ring Vacuum Pump
The liquid Ring Vacuum Pump is of a technology based on the requirement of its usefulness for Handling Moist Air Gases & vapours of Toxic nature.
Applications
For priming Pumps and Syphons
Evaporation
Condensation
Pharmaceutical & Chemical Industries
Food Stuffs Manufacturing
Textile Mills
Paper Mills
Solvent Extrusion Plant
Confectioneries etc.
Installation as vacuum pumps
In normal installation where water is used as liquid ring and cooling fluid, the exhaust & cooling fluid are delivered together into the drains. A silencer is fitted to the exhaust pipe to minimize the noise. A non-return valve is also provided to the suction side to check the water flow into the vacuum line
in case of operational failure. A vacuum relief valve to limit the vacuum pressure, can be supplied on request. Basically the temperature and evaporation properties of the ring fluid will determine the ultimate vacuum of the pump.
Installation as a compressor
For its use as a compressor, a water separator is provided at the exhaust side for separation of ring water to drain which can be re-circulated. In water ring compressor a non return valve is fitted to the exhaust side. A safety valve can be provided to the exhaust side to limit the working pressure.
Models Specifications

| | | | | | | | |
| --- | --- | --- | --- | --- | --- | --- | --- |
| Model LRV | Speed RPM | Suction C.F.M | Suction m3/hr | Recommended H.P | Sealing water consumption L.P.M | Approx wt. Bare pump kg. | Suction exhaust size |
| LRV-001 | 2850 | 12 | 20 | 1 | 1.5 | 17 | 15x15 |
| LRV-002 | 2850 | 18 | 30 | 2 | 2 | 22 | 15x15 |
| LRV-1 | 2850 | 30 | 50 | 3 | 4 | 38 | 25x25 |
| LRV-2 | 2850 | 50 | 85 | 5 | 9 | 46 | 31x31 |
| LRV-3 | 2850 | 75 | 128 | 7.5 | 13 | 51 | 38x38 |
| LRV-4 | 1440 | 100 | 170 | 7.5 | 16 | 175 | 50x50 |
| LRV-5 | 1440 | 130 | 220 | 10 | 20 | 190 | 50x50 |
| LRV-6 | 1440 | 200 | 340 | 16 | 28 | 225 | 50x50 |
| LRV-7 | 1440 | 260 | 440 | 20 | 40 | 250 | 75x75 |